Navy has been trending as a popular color in kitchen design for a few years now. It's both sophisticated and timeless and can add dramatic contrast and even a bit of mystery to the kitchen atmosphere. You'll see navy applied to cabinets, walls, accents, backsplash, countertops – any area where a shot of bold color can elevate the look. Paired with white, grey, or tan, navy cabinets can refresh any kitchen.
What is the most popular color for a kitchen?
White remains the most popular color for kitchen cabinets. White cabinets come in many styles to suit any home decor. White Shaker cabinets feature a clean, single line on doors and drawers for a modern and contemporary look. In contrast, White Tacoma cabinets include another overlay on the doors and drawers for a more traditional look. If you dream about a modern, minimalist kitchen, smooth, frameless white cabinets are an ideal choice. How does the color navy fit into this picture? The answer is – seamlessly.
What is the best accent or contrast color for a kitchen with white cabinets?
White cabinets create a light and airy ambiance in any kitchen. When you bring navy cabinets into the mix, the room gains a new level of sophistication. Navy adds depth to white cabinets with contrast that's softer than black. 
Are blue kitchens in style?
According to the Houzz Kitchen Trend 2020 report, homeowners are choosing blue cabinets for their kitchen remodels with growing frequency. Blue often shows up in a contrasting kitchen island as a focal point for the new kitchen.
Different ways to use blue in the kitchen.
If you want to add blue to your kitchen, you aren't limited to the cabinets. Navy or another shade of blue works well as an accent color, whether it's used for cabinets, flooring, walls, backsplash, or countertop. If you like the two-tone look for cabinets, blue and white cabinets with a black granite countertop would be an excellent choice. When using Navy blue kitchen cabinets, high contrast colors look best.
Source – alexandrarae.com
The Benefits Of Navy Cabinets
Navy cabinets are timeless.
The navy cabinet trend is one you can count on to endure for years to come. Navy is a timeless color, favored by homeowners and designers alike.
Navy cabinets are practical.
The color navy pairs well with many other colors. Your investment in navy cabinets adds value to your home – it's the perfect color to hide the mess of everyday life. Unlike with white kitchen cabinets, it's harder to see splattered food, shoe scuffs, and general wear and tear on navy cabinets.
Navy cabinets are versatile.
Blue cabinets pair well with cabinets in white, grey, or wood grain finishes. Other kitchen elements in accent colors like antique white and tan and stainless steel appliances provide an attractive contrast to the blue.
Navy cabinets complement other trends.
Navy works well if you like a two-tone kitchen design. You can achieve a softer look for the kitchen with cabinets in navy (instead of black) and white.
Explore blue and white kitchen ideas
Mix blue and white cabinets
When bringing together cabinets in blue and white in your kitchen, the trick is to create a balance between light and dark. With base cabinets in navy and upper wall cabinets in white, you'll want to incorporate light colors for the paint and backsplash.
Source – https://www.cliqstudios.com/
If a full set of dark cabinets seems likely to overwhelm the room, consider using dark cabinets for an island or peninsula to create a focal point.
Source – https://www.cliqstudios.com/
Go all blue
Yes, you can have navy cabinets for both upper wall cabinets and lower base cabinets. Balance this monochromatic cabinet look with a countertop in white granite or quartz and hardwood floors.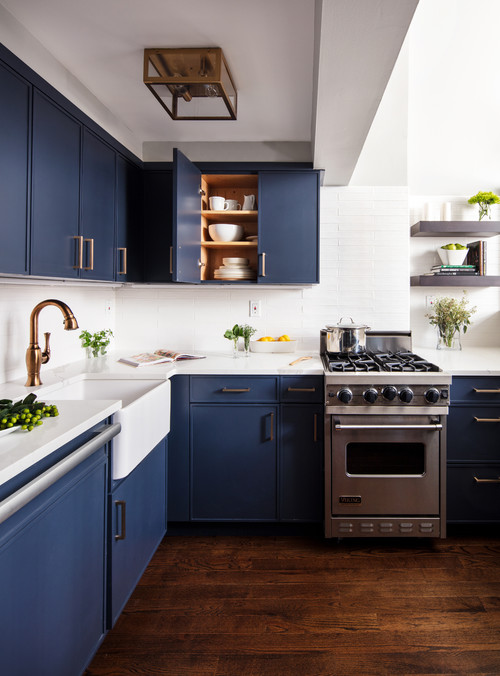 Photo by Palette Pro Painting & Renovation – Look for kitchen pictures
Blue kitchen with wood island
This lighter shade of blue shows how blue can be as versatile as white when it comes to kitchen cabinets. The wood grain island adds a natural element to this kitchen.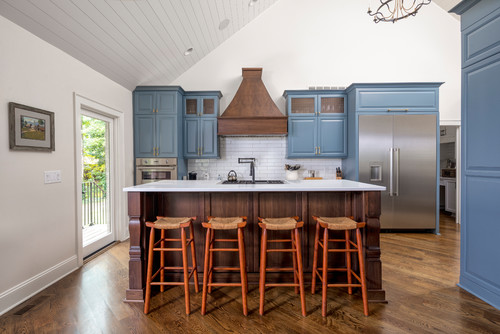 Photo by Sheedy Watts Design – Search kitchen pictures
Light blue for the win
If you love the idea of a blue kitchen but want to avoid dark colors, consider robin's egg blue. This light and airy kitchen with light blue cabinets pair beautifully with the hardwood floor. Gray granite countertops add a welcome note of contrast.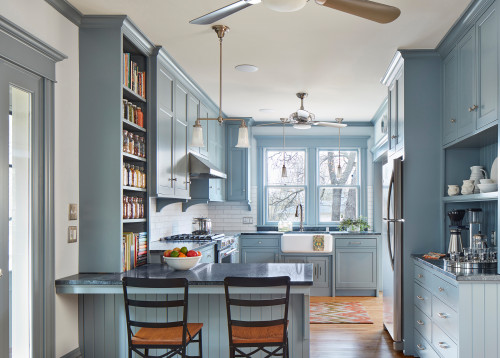 Photo by David Heide Design Studio – Discover kitchen design ideas
Add the warmth
In a tranquil navy, these base cabinets, topped with a blue granite countertop, provide an anchor for the colorful backsplash. Warm wood grain upper cabinets round out this luxurious kitchen look.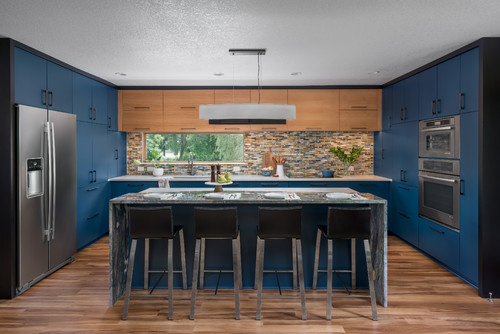 Photo by Quartersawn Design Build – Browse kitchen ideas
Blue kitchen, white cabinets
For this modern take on a blue kitchen, white cabinets are a focal piece between two tall cabinet sets in bright blue. Even a minimalist modern kitchen can feel elegant with the contrast of white, blue, and gold hardware.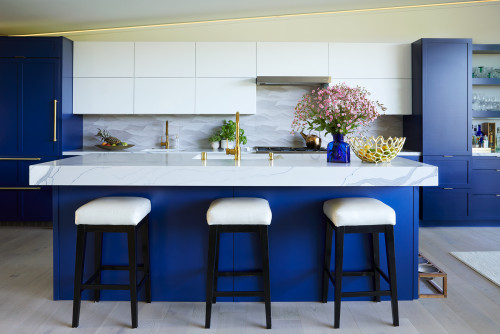 Photo by Joy Coakley Photography – Search kitchen pictures
Ready to add a little stress relief to your kitchen with navy cabinets?
Navy kitchen cabinets can be a stunning statement piece or serve as your kitchen's overall theme color. If you want to explore the two-tone kitchen design trend, consider cabinets from Simply Kitchen USA. Our cabinet designers can help you achieve the perfect look for your kitchen, assisting with every step from measurement to installation. Visit our photo gallery to find your dream kitchen design today.